<< Back
21st meeting/1st Virtual Meeting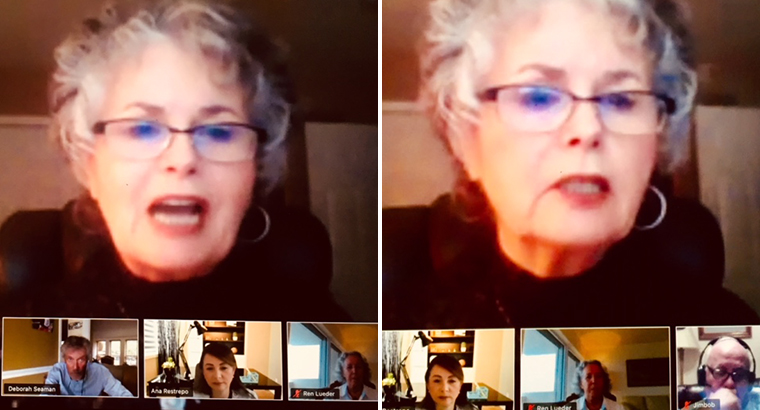 Support Group Meeting #21 was held on May 19, 2020, at 6:30 p.m. It was our first Zoom VIRTUAL meeting and we are happy to say that it was a great success. We had 50 people attend this meeting.
We were very excited and honored to have Susan Burns, President of the UOAA, to be our first speaker. She has volunteered with the UOAA for fifteen years, since its inception, and considers it the most rewarding experience of her life.
When Hal Spaet, our president, was trying to find aftercare support after his own Ostomy, he met with Susan Burns. He explained to her that there was no appropriate aftercare in any of the organizations he contacted or read about in the computer and enlightened her of this problem. Susan suggested that he start an aftercare program in South Florida and was very instrumental and helpful in getting the Miami Ostomy Aftercare Program off of the ground. She has been very supportive and a great friend to Hal ever since.
After Susan spoke, other people joined in the conversation.
Some of those in attendance were:
Wendy Lueder, President, Broward Ostomy Association,
Ken Aukett, Co-Founder of the United Ostomy Associations of America,
Lynn Wolfson, President Weston Ostomy Tube Feeding Group,
Claudia Maione and Reina Nunez, Comfort Medical, and
Claudio Croce, Our Webmaster, CEO of Atimo.
The members of Miami Ostomy Aftercare who attended were:
Hal Spaet, President,
Ana Restrepo, Vice President,
Rob Seaman, Secretary/Treasurer and staff,
Mary Lou Boyer, Helpline & so much more!,
Susan Neuman, Senior Consultant,
Chris Criscuolo, IT person,
Sue Gale, Consultant.
We want to thank Susan Burns for kicking off our first Virtual meeting and we look forward to future Virtual meetings with informative and interesting speakers from all over the country. Stay Tuned.