The OCA® Program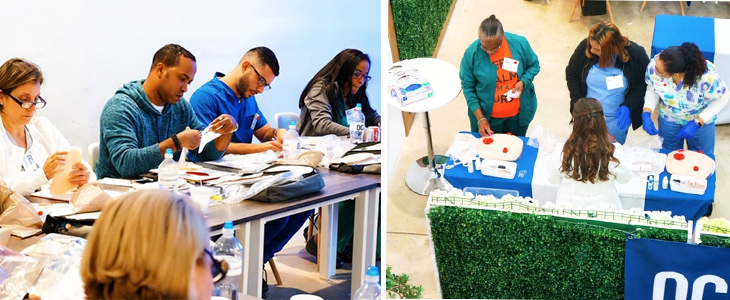 Next Class
August
Week 1

Aug 18 - Aug 24

Orientation Meeting

Introduction/Overview Course.
Review Position Statement for Role & Scope of Practice for Ostomy Care Associate (OCA).
Review Sample Position Description for a nurse completing the OCA Program.

Week 2

Aug 25 - Aug 31

Module 1:
Anatomy & Physiology of GI Tract.

Module 2: Colostomy:
Colostomy: Indications, Surgical Construction, and Management.

Module 3:
Ileostomy, Jejunostomy: Indications Surgical Construction, and Management.
September
Week 3

Sep 1 - Sep 7

Module 4:
Anatomy & Physiology of GU System: Implications for Ostomy Care.

Module 5:
Incontinent Urinary Diversions: Indications, Surgical Construction and Management.

Module 6:
Pouching Systems.

Week 4

Sep 8 - Sep 14

Module 7:
General Considerations in Ostomy Patient Care and Education.

Module 8: Rehabilitation:
Rehabilitation: Living Well with an Ostomy.

Week 5

Sep 15 - Sep 21

Midway Conference Call.

Conference call scheduled with the participants to assess their progress through then lessons and answer questions/clarify areas of confusion.

Week 6

Sep 22 - Sep 28

Module 9:
Peristomal Complications.

Module 10: Rehabilitation:
Stomal Complications.

Week 7

Sep 29 - Oct 5

Module 11:
Continent Diversions: Abdominal and Pelvic Reservoirs.

Module 12:
Fistula Management: Nursing Challenges.
October
Week 8

Oct 6 - Oct 12

Module 13:
Percutaneous Tube Management.

Week 9

Oct 13 - Oct 19

Exam Preparation.

Review:
Posttest Practice Questions/Practice Clinical Case Scenarios.

Review videos/procedures for course competencies.

Week 10

Oct 20 - Oct 26

Student Self Study/Review/Prep for Exam.

Week 11

Oct 27 - Nov 2

On-site clinical skills competency training and testing (exact date within this week to be determined).

Demonstration/return demonstration of course competencies.

Clinical Skills Competency Tests.
November
Week 12

Nov 3 - Nov 9

Online Final Exam.

Written online exam - 40 multiple choice questions.

Online course evaluation and certificate of completion.
Requirements for Successful Completion of the Course

To receive the certificate of completion and 27.0 contact hours, participants must complete the entire online activity, receive a passing score of 70% or above, satisfactorily demonstrate required clinical skills competency, and complete a course evaluation form.