News
Give Miami Day
November, 2020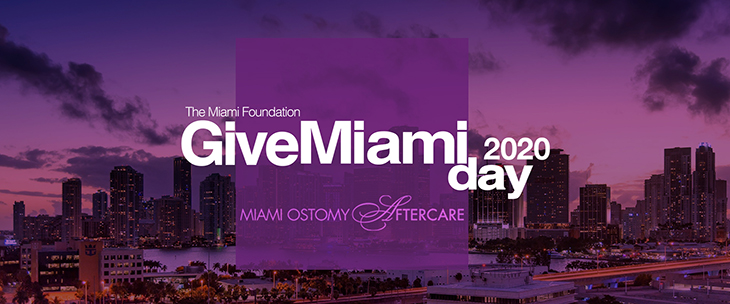 CLICK HERE for more information.
"Our Ana" Named Nurse of the year
October, 2020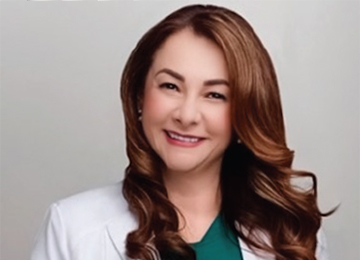 Ana M. Restrepo, R.N., B.S.N. C.W.O.N., has been named national Nurse of the Year for 2020 by the United Ostomy Associations of America for her exemplary work specializing in ostomy care.
Ms. Restrepo is Vice President of Miami Ostomy Aftercare where, as a volunteer, she worked to initiate an ostomy support group for South Florida patients in 2018.
She is employed as a Nurse Specialist/ Supervisor of the Inpatient Wound and Ostomy Care Service at the University of Miami Health System. Realizing the need for an outpatient ostomy clinic, she played an integral role in facilitating the University of Miami Health System to establish the clinic.
"We are extremely proud of Ms. Restrepo," said Harold W. Spaet, President of Miami Ostomy Aftercare Program, who nominated her to the national organization for the award. "This is a well-deserved recognition of the dedication and professional expertise that Ms. Restrepo provides to her patients. Her work as Vice President of Miami Ostomy Aftercare program has contributed to the organization's rapid growth in our three-and-a-half years of existence."
Ms. Restrepo continues to care for ostomy patients throughout the coronavirus pandemic.
"During the COVID-19 crisis, we provided telehealth services as an alternative for our outpatient ostomy patients to continue to receive their care while limiting exposure," she said.
Ms. Restrepo graduated cum laude from the University of Miami with a degree in nursing, receiving her Wound Care certification from the Medical University of South Carolina and her Ostomy Certification from Emory University. She was awarded the Gloria Merwarth Scholarship from the Florida Association of Enterostomal Therapists. She is currently pursuing her master's degree in nursing education.
She is a certified WOC nurse and member of the prestigious National Wound Ostomy Continence Nurses Society (W.O.C.N.) since 2008. She is currently Director at large for the North and Central America and Caribbean Ostomy Association (N.C.A.C.O.A.).
Ms. Restrepo resides in Coral Gables with her husband, Arthur.
Ask Mary Lou
October, 2020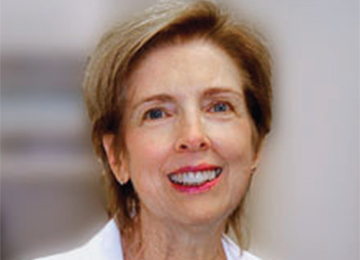 Is This Normal Even If It Is Different?
Whether you are new to having an ostomy or you have had one for a long period of time, you may sometimes wonder if what is happening is normal. Figuring out your new normal can take some time and even over many years, changes can take place. This is a recurring column addressing issues that may cause you to wonder "Is this normal even if it is different?"
With everything that is happening in our world right now, fear, worry and anxiety are running rampant. Social distancing, lack of everyday groceries, reduced income, or no income, and avoiding the COVID 19 virus doesn't give us our usual outlets. Certain life altering situations, such as a death in the family, divorce, certain diagnoses or even upcoming health care tests also can cause anxiety.
If you have a urostomy, you may notice more mucus around the stoma or in the urostomy pouch. If you have a colostomy or ileostomy, you may notice more noise and/or gas coming from the stoma and more mucus on the stoma. This is different because it is not your usual normal, but it is normal if you are going through traumatic circumstances. These changes happen when you are anxious because the lining of the intestine produces more mucus and the intestinal muscles are more active than usual. Remember that with a urostomy, the stoma is created from a piece of the intestine. These changes should improve as your world calms down.
See your physician if you have changes that do not resolve.
Happy Haloween
October, 2020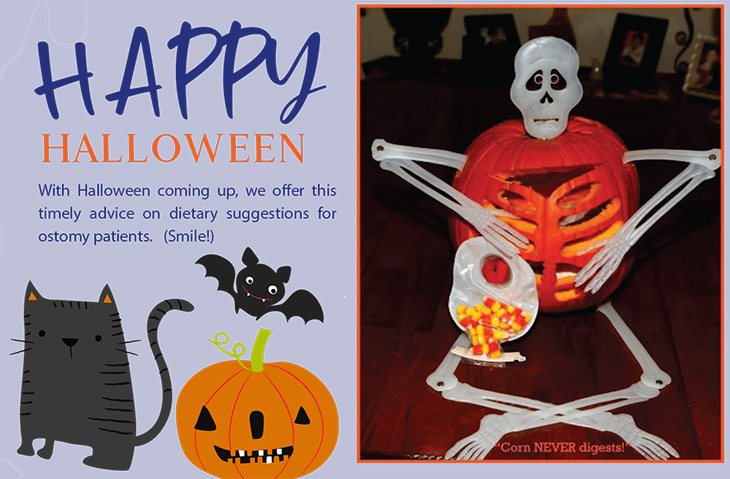 Calendar of Events
October, 2020
MIAMI'S OSTOMY TRIATHLON

OCTOBER 3RD, 2020
Including two of Miami Ostomy Aftercare officers, Vice President Ana Restrepo (Center) and Rob Seaman (Right) long with Lea Crestodina (Left).
UNIVERSITY OF MIAMI

OCTOBER 3RD, 2020
Hospital staff celebrates Ostomy Awareness Day with the "Ostomies Are Life-Savers" campaign.
SUPPORT GROUP MEETING

OCTOBER 27TH, 6:30 PM
featuring Robin Brown, Mrs. Washington World. (Click here for Zoom meeting attendance instructions)
GIVEMIAMIDAY2020

NOVEMBER 19TH, 2020
Donations large and small are all helpful. Select Miami Ostomy Aftercare for your charitable donations on this special day.
Go to GiveMiamiDay.org for additional information.
Wish list
October, 2020

Miami Ostomy Aftercare is seeking sponsors for some of our most important programs:
The Ostomy Care Associates program, teaching nurses proper care of patients with ostomies. This is a three-month online program in conjunction with the Wound Ostomy Continence Nurses Society. It concludes with a full day hands-on all-day session.
The "Teaching the Teachers" program targeting nurses who work with home health care agencies and are sent out to homes of patients who have been discharged from hospitals after having an ostomy surgery.
Calling all donors!
October, 2020

Miami Ostomy Aftercare Program is a Florida nonprofit corporation with tax-deductible donation status under section 501(c)(3) by the Internal Revenue Service. It is registered with the State of Florida under s. 496.405 to solicit donations from the public.
Ostomies are not popular, attractive subject matter. The majority of people who have had ostomies are persons who have had surgery to remove cancer in the internal elimination system of the body. Some persons require ostomies due to disease (IBS, etc) and some due to trauma (gunshot, auto accidents, etc.), but the majority are cancer patients who would not be alive without an ostomy. No matter what the original cause, most ostomy patients will not talk about their condition. Our services fill a void that neither doctors nor most hospitals provide. The current Covid-19 pandemic has created a hardship for the funder who has underwritten us for our first three years. To continue providing service to patients we need three or four new major donors of $25,000 or more to step up.
Smaller donations are welcome too. Donations can be made directly on our website or a check by mail.
In addition, we receive donations from Amazon Smile for purchases made on Amazon . You can select Miami Ostomy Aftercare Program as your designated charity on Amazon. It does not cost you any more, Amazon makes the donation based on your purchases. Small purchases add up!